LUX NOMAD
Laurie Bycroft and Anu Grace touring light.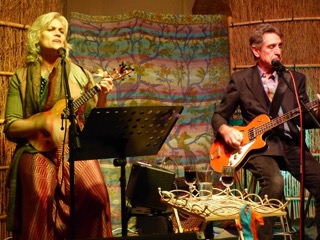 Original and contemporary Jazz, Folk & World tunes. Celestial vocals wrapped in melodic ukulele and soulful bass . Anu and Laurie will take you on a journey with their tenor uke loops over bass, flute, melodian, beautiful vocal harmonies.
Lux Nomad are sure to delight lovers of fine music
Professional and compact they can play small to large venues. Together they put on a show that touches the musical soul
New Zealand Tour : Jan – through April,  Northern Australia : July – September 2017. Available for House Concerts, Festivals, special Events and Weddings.
Venues and dates will be added so please check back regularly  or join our email list by signing up.